Fresh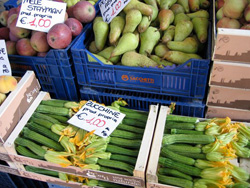 Photo: Rose Gallagher

Even in the busiest season, most nights, I come home to a simple routine. As the sun sets, I sit on the porch with friends or neighbors and catch up on life. I'll serve a new cheese or wine, or enjoy an old favorite. Eventually we move to the kitchen, for more conversation, tasting and some experimenting with the ingredients that will become dinner. My kids, who are all away at college or out of house and in the area, may show up and join in. No matter how busy life gets, dinnertime is about what matters most: family & friends.
Photo: Chris Berggren/Sonoma Custom Image
For me, creating a delicious menu and pairing it with special wines is rewarding and fun, but sharing it with people I love is what makes it complete. At their most essential, food and wine are opportunities to connect. Whether I'm preparing a feast for two hundred or dinner for my family, this is the philosophy that guides me.