Tips From The Table
Even if there is no farmers' market or winery for miles, you can still make dinner a feast for the senses. When I pair wine and food, I match that pairing to the moment.
First, I consider the mood when I plan the menu. A festive meal would lend itself to a mixture of bright colors and flavors that keep the energy high, while a romantic evening might call for something that slows the pace, like ripe strawberries or roasted figs to savor one at a time.
I then match the ambiance to the meal, adjusting lighting, music, and table settings.
Whether you're planning a party or just thinking about tonight's dinner, here are some ideas:
Photo: Jack Bullard

About You
Planning a meal of any size should always be a reflection of your personal tastes. Choose foods that you enjoy cooking. Gone are the days when a meal was measured by its complexity. Elegance can be very simple - perhaps red and golden beets with crème fraiche and a delectable pot roast that requires little last minute preparation. Remember, design a meal that leaves you time to be with your guests.
Climate Control
As you plan a meal, create a sensory experience that extends beyond the flavors alone. During the dog days of summer you can offer a chilled soup of cooling colors and flavors, maybe cucumber or avocado, served with a glass of cold Marsanne. If the days are dark and cold, greet your guests with something hot - perhaps mulled wine in a thick mug and a Miniature Sausage Sandwich with Spicy Mustard. Start the party in a room with soft, warm light.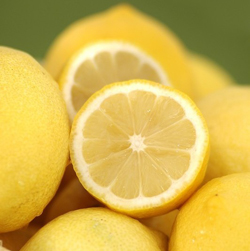 The Main Ingredients
I often let the ingredients guide me. This is especially true at the farmers' market, where I find inspiration in the seasonal produce. I might make something unexpected, but if it's guided by quality ingredients it's sure to be good. For instance, if you have your heart set on making gazpacho for a summer party, but the farmers' market reveals that tomatoes are late this year, try something else. You may find an abundance of shelling peas and gorgeous herbs. So how about a chilled pea soup with mint? If you stay flexible and keep your eyes open, the seasonal flavors will guide you.
Ambience

As important as the meal on your table is the sensory experience that surrounds it. Once you have paired your food and wine, take the time to consider the ambience. There's no right or wrong in this realm, only personal preference. Here are some things to consider:
Texture: There are endless ways to create texture around a meal. For instance, replace your salt shaker with coarse sea salt served in a small bowl (Maldon salt is great, with its large crunchy crystals). Rather than the uniform look of tapers in candlesticks, try mixing votive and pillar candles. Instead of stemmed wine glasses, try stemless glassware. Consider a sheer fabric of a different color over your usual tablecloth. If serving family style, combine elevated bowls with low serving platters. Simple changes like these can create a lively visual experience.

Temperature: Heat or chill plates and serving dishes appropriately. Chill salad plates in the refrigerator. I warm entrée plates in the microwave (six plates'Äîone minute) or a low temperature oven.

Table setting: Be creative with your table settings. Consider square or triangular plates and bowls for your dinner. Try serving sorbet or ice cream in a martini glass. For a more casual feel, serve family style platters and bowls of different shapes and sizes. It is important to have water at the table. Carafes of iced lemon water with tiny sprigs of lavender are refreshing. Create seasonal flower arrangements by shopping the farmer's market. A nice final touch is a flower or herb from the garden slipped into each napkin ring.
Room to Room

Time and space are important elements to consider when entertaining. Before guests arrive, take a moment and do a 'walk-through.' Approach your home as they will, and walk through the house. Notice what they will notice, and fine-tune accordingly:

Take into consideration the lighting and the music guests will experience as they walk through the door, and how the party will flow from one stage to the next. For small groups, maintain the party's energy by attracting people to the same space. Keep the bar and hors d'oeuvres close together. For larger groups, consider multiple bars and food stations.

For a sit-down meal, you can keep the conversation lively by seating your guests next to people other than their partners. Keep things fresh by inviting your guests to the living room, or outside by the fire pit, for dessert and coffee. Discover the talents of a few of your guests and encourage them to perform.

Group Participation

Getting your guests involved in the meal before it is served creates a whole new connection to the food and wine. You can set up simple pairings before the meal, and let guests explore how different foods change the taste of the wine. If you have an open kitchen, you might cook something showy like a flambé in front of your guests, or invite them to help out by chopping, mixing, or plating the food. To get everyone involved, have them make raviolis - you make the dough and fillings ahead of time, then everyone rolls-out, fills and cuts the pasta together. It will be the best ravioli they've ever had!