What's In The Glass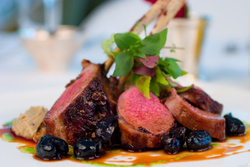 To make a great pairing, I begin with the wine. That's because you can always adjust the food's taste, but you can't adjust the wine. When I know the basic menu I want to create-say, Syrah and lamb-I cook and season the dishes to match the wine's particular flavors. Other times I begin with only the wine and build an entire menu around it. Either way, having some background on the various wine varietals helps in making decisions about the food. For that, each season, I will highlight a different varietal here, exploring both its personal characteristics and how it works with food. Enjoy!

Sauvignon Blanc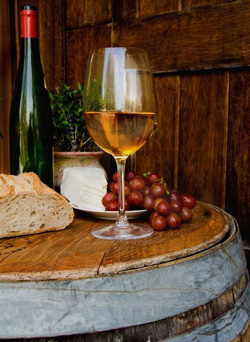 Zesty and crisp, Sauvignon Blanc is a useful wine because it can pair with a lot of foods that other wines cannot. The primary reason is its high acidity, which makes it a match for foods that are also acidic and therefore tricky to complement, such as goat cheese or tomatoes.

Sauvignon Blanc's flavors also work to balance out foods that are acidic, as well as those that are spicy or sweet. These flavors range dramatically depending on whether the wine comes from California, New Zealand, France, or one of its more minor growing regions.

When the wine has an herbal, grassy component, it works well with foods that other wines can't touch, such as cilantro and asparagus.
Photo: Christian LaCroix

All of these characteristics make Sauvignon Blanc a great match for most summer foods. When the temperature goes up, we're more drawn to foods that liven us up, foods that are hot and spicy or cold and crisp. Sauvignon Blanc can match the spice and acidity of gazpacho, for instance, or complement a light salad of chicken, radish and fresh English peas. The wine also offers a more summertime approach to certain dishes. For instance, imagine you're serving a creamy soup. In winter you might want to complement the soup's richness, in which case you would pair it with a rich, oaky Chardonnay. In warmer weather, though, you would want to do just the opposite, by cleansing the palate after each bite. Crisp Sauvignon Blanc would do exactly that, making the dish feel lighter overall. An excellent example is a late summer favorite of squash blossoms stuffed with goat cheese and topped with a cherry tomato relish. The wine provides a perfect balance to the blend of rich and tangy flavors.